Keyword Research is the most important part of SEO and it is the foremost thing which we have to do to make any content strategy. So, in this blog, we are going to tell you about keyword researching and some steps and tools on how to do it to improve your SEO strategy.
The keywords that we found after doing keyword research ensures that our content is easily searchable and relevant on Google SERP. So, it is a very time taking process because we have to see so many things like competition, search volume, and many more metrics to finalize keywords after doing keyword research.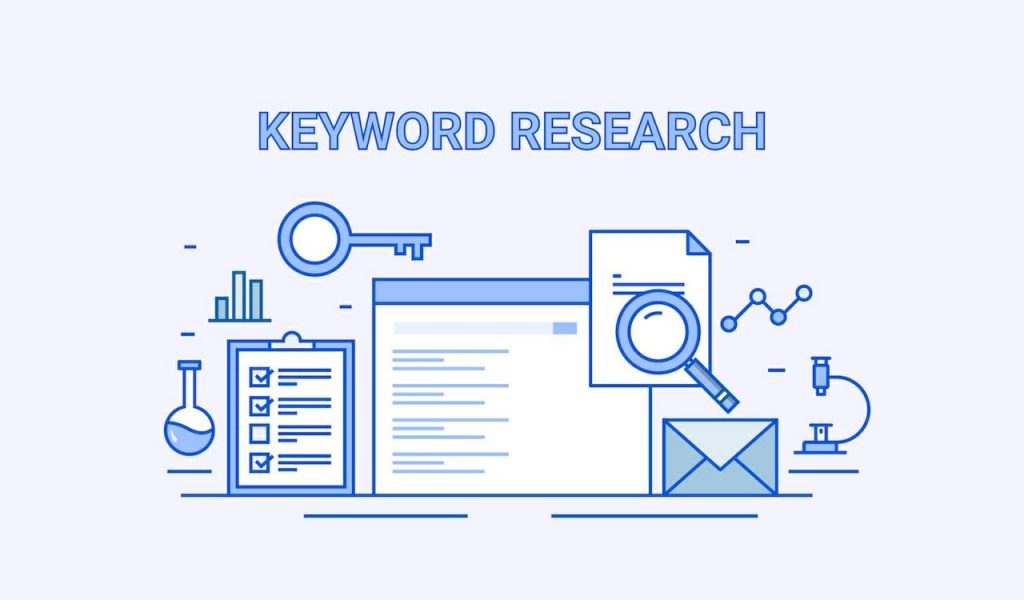 What is Keyword Research? Why it is important?
Keyword Research is a process of analyzing and finding a list of valuable keywords for your content (niche) so that you can rank on Google SERP for those keywords on that niche. It acts as a guide for your marketing strategy.
A keyword can consist of a single word or more than one word. For example, "keyword tool" is a keyword, as is "best keyword research tool".
Finding high volume keywords is not enough. You need to ensure that the keywords you are using in your content match your brand, product or service to the keywords that your customers are searching and this is what keyword research is. For example, if you are a digital marketing company then your focused keyword may contain the word "digital marketing". You have to use keywords according to your audience that what they are searching for, then only it will optimize your webpage.
When you are finding keywords for your niche you have to make sure that its competition must be low to medium, search volume must be high and you also have to check the trends related to the keyword.
How to do Keyword Research
There are many ways to do keyword research by both manually or by using a keyword research tool. But whichever method you are taking to do it you have to follow some important steps from defining your goals to executing your keyword plan, so follow these steps for a proper keyword research:
Explore and Study your Niche topics
To have quality traffic you must have to study your niche and to understand your target audience because it can give you great ideas and help you to optimize your marketing strategy. To understand this, you have to find what keywords the customers are searching for related to your products, services, and industry.
Here are a few ideas on how to study your niche:
You have to talk to your existing customers about the search terms that they are using to find your brand or products.
You have to think yourself from the perspective of your customer.
You also have to think about that if you want to share your brand offering to a friend then in what way you will tell him/her.
You have to see what people are posting on social media related to your niche community or forum. You also have to see suggestions on Google SERP after typing your keywords that can also help you understand your keywords related to your niche.
Identify and define your goals
To define your goals, you first have to understand what your brand is, what promises you make on your website, what is your website conveying to the customers. You must be clear that what your brand needs, must be sales, leads or traffic or whatsoever because the keywords that you will use must define your goal.
You also have to know the intent or reason behind why people are searching for a specific term. You have to think like a customer and find out why they are searching for that specific topic? Are they looking to buy something or they need a service to solve a specific problem? And once you know the search intent of the customers your keyword research will be proper.
Focused keywords are the keywords that you will rank for in the Google SERP. So, you have to create a list of focused keywords, these keywords are those keywords that are related to your niche and the keywords that your target audience might be searching on Google.
Focused keywords are a very important aspect of keyword research and SEO as they define your niche and identify your competitors.
To find a focused keyword you have to describe your topic simply and generic and find how other people search it on google.
If you are writing a blog or an article then you have to take one focused keyword and then write according to it so that your blog rank easily.
Focused keywords are usually shorter terms that are related to your brand. Long-tail keywords, on the other hand, as the word says long are descriptive and are often related to your sub-topics. Long-tail keywords match your target audience search terms and are far easier to target than focused keywords.
For example, if your website published content about best stylish shoes, using long-tail keywords like "buy best stylish shoes under 3000" will attract a more relevant audience compared to the focused keyword "Nike shoes". Long-tail keywords usually get fewer clicks but it has a high conversion rate.
If you want to rank higher in Google SERP then keyword researching and as well as you have to identify your competitors and the keywords, they are using so that you update yourself what you are doing right and what you are doing wrong.
Platforms (Tools) for Keyword Research
Here are some free and paid tools that you can use for keyword researching:
Ubersuggest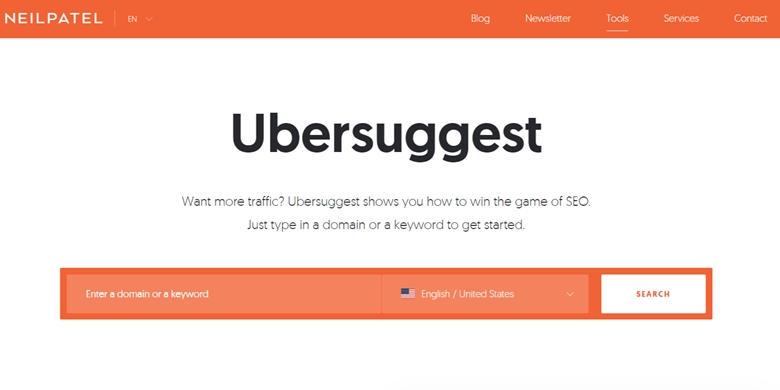 Ubersuggest by Neil Patel is a free SEO tool that generates new keyword ideas. Ubersuggest also finds long-tail keywords and also you will get each and every data of keyword including monthly search volume, average, CPC, PPC competition, and SEO competition. It also checks domain score and backlink score.
Its free version is limited but if you have to see all the things about your competitor and keyword related ideas then you can buy the paid version of the tool at $10 per month.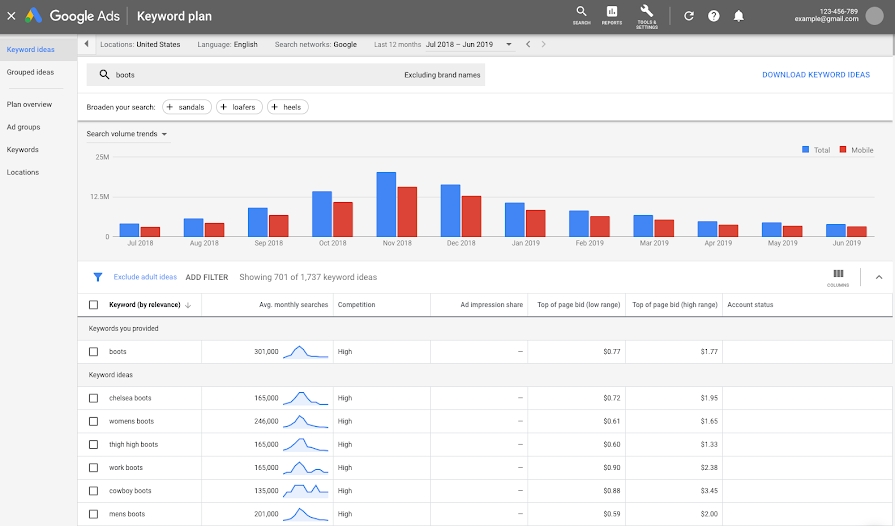 Google keyword planner is a free tool in Google AdWords that can find new keywords related to your topic. It also uses various filters like location, google search partners, language, etc. It gives various keyword suggestions and also gives metrics about keywords like search volume, competition, CPC, bid, and it also has an option to save those keywords to CSV file.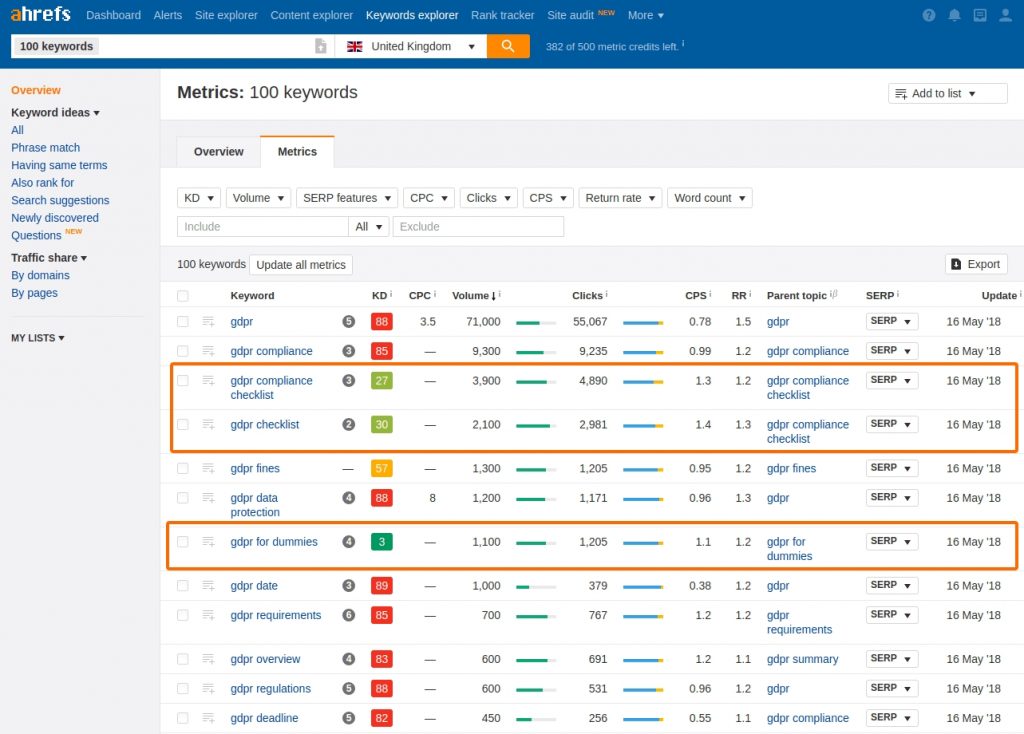 Ahref tool is a paid tool that has good features. It has an organic search report tool that checks on what organic keywords your competitors are ranking, it also uses the content gap feature tell you about what keywords they are rank for and you don't. The keyword explorer tool helps you find the over 3 billion keywords and it also shows you great insights about searchers behavior and trends. It also has a rank tracker tool that tracks your desktop and mobile keyword rankings from any location.
Moz is a free SEO and keyword research tool which gives you full insights about keywords and various ideas with 500 million keyword suggestions, 180 million fresh Ranking keywords and 170 google search engines. It has the technique to generate and save keyword lists, export your data, keywords in question format, global SEO strategy and many more things that can help you rank in Google SERP. Its paid version starts from $99 per month.
Semrush is a free tool but with limited things. It has a keyword research tool that finds keywords both for your SEO and PPC campaigns and it can also explore multinational and multilingual environments. Semrush analyzes all websites that are ranked in the top 100 of the Google SERP and then provides you the list of the keywords they have in common. It also has a keyword magic tool which uses the semrush algorithm to suggest keywords semantically related to your initial search and sort them into groups by search topic. It can also estimate how much traffic each keyword will bring to your website. Its paid version starts from $99 per month.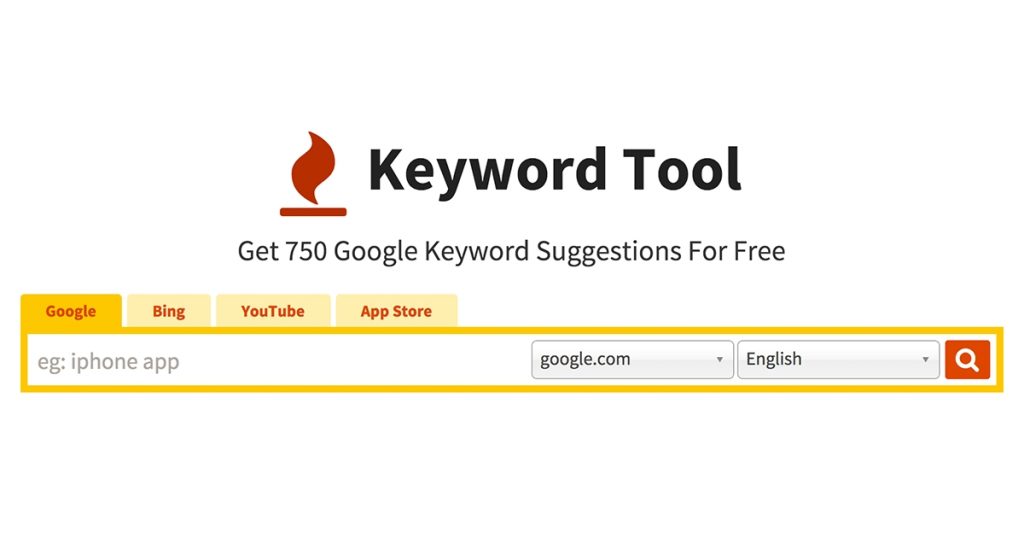 Keyword tool is the best free keyword research tool. Its free version of keyword tool generates up to 750+ long-tail keyword suggestions and it is very reliable and free; you can use it even without creating an account. It uses Google Autocomplete to generate hundreds of relevant long-tail keywords for any topic.
Rank tracker is also a free keyword research tool that generates new keywords related to the niche. It also gives suggestions from Google, Bing, Yahoo, and Amazon. It also tells about popular misspellings and permutations. It also has a more feature paid version tool; the free version is absolutely enough for keyword research and it lets you use all the research tools and analyze the keywords traffic potential.
Keyword Research is an essential step in the SEO process and overall content marketing strategy. It is the best way to ensure that your website gets quality traffic. It doesn't matter your business is small or large but you have to use keyword research if you have to be successful on Google SERP. It is a time taking process but if you follow these steps above then you can easily do keyword research and optimize your site to reach your marketing goals.
Want someone who has some experience in this field of SEO and Keyword Research then you can freely connect with Urmad Solutions now,
Call: 8130552585
Email: info@urmadsolutions.com
Visit: AU – 83 PITAMPURA, NEAR VIPS COLLEGE, DELHI – 110034
Website: https://www.urmadsolutions.com/
Facebook: https://www.facebook.com/urmadsolutions/
Instagram: https://www.instagram.com/urmadsolutions/